Athletics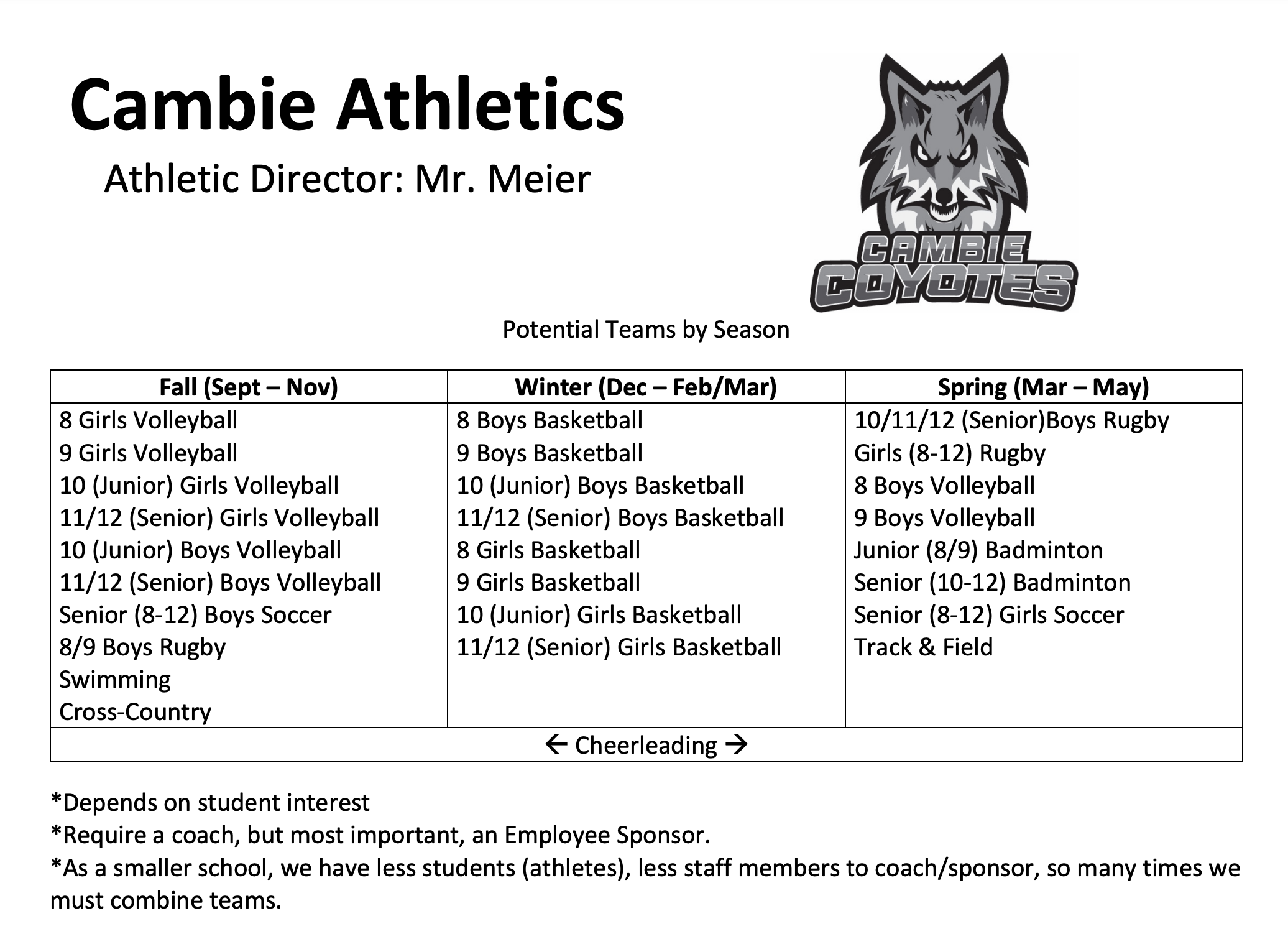 Cambie Secondary has a long history of extra-curricular student-athletics.  Our teams compete in the Richmond Secondary Schools Athletic Association (RSSAA) leagues and can qualify to compete for City, South Fraser Athletics Association, and Provincial championships.  Our teams strive to find a balance between participation and winning.  However, we measure our success by the number of students who participate on any of our extra-curricular teams.  We have many students get involved with our Athletics department by being a team member, taking on the role of a manager, helping to coach younger teams, volunteering as a scorekeeper, providing service as an official, or cheering on our teams as a fan.   Our school values athletics and its role in helping students develop into good people.  We also know that our team members are "STUDENT-ATHLETES" and the priority should always be given to classroom commitments, before extra-curricular athletics.  We expect our student-athletes to be attending classes regularly, maintaining satisfactory academic achievement in all of their classes and to be positive citizens in the wider school community, modelling our Cambie 3 R's.
Potential sports depending on student interest and coach & sponsor availability.
FALL SPORTS
Grade 8 Girls' Volleyball
Grade 9 Girls' Volleyball
Grade 10 Girls' Volleyball
Senior Girls' Volleyball
Grade 10 Boys' Volleyball
Senior Boys' Volleyball
Cross-Country
Boys' Soccer
Swimming

Grade 8/9 Boys Rugby

+ Cheerleading

 

WINTER SPORTS
Grade 8 Boys' Basketball
Grade 9 Boys' Basketball
Grade 10 Boys' Basketball
Senior Boys' Basketball
Grade 8 Girls' Basketball
Grade 9 Girls' Basketball 
Grade 10 Girls' Basketball 
Senior Girls' Basketball

Table Tennis
 

+ Cheerleading

 

SPRING SPORTS
Girls' Soccer
Grade 8 Boys' Volleyball
Grade 9 Boys' Volleyball
Track and Field
Junior Badminton
Senior Badminton

Grade 10-12 Boys Rugby

Girls' Rugby

+ Cheerleading
Financial Aid?   There are some costs involved in Cambie Athletics to pay for uniforms, equipment, referees, tournament entrance fees, insurance, etc. If this will be difficult for your family, please click on the link below to access the KidSport Richmond Application Form that parents can access and apply for some external funding.  Alternatively, a hard copy (paper) of the application is also available from the Athletic Director Mr. Meier (more simple process) or from the attachments below.
http://www.kidsportcanada.ca/british-columbia/richmond/apply-for-assistance/
A letter and consent form will be sent home with your child prior to the season starting.
The check boxes on the consent form can be completed, if parents and students read the attachments below.
A completed consent form and registration fees are required before students can play on a team.